It seems weird because it feels like they've been around ages, I mean Levi the singer obviously has been around physically for ages, although he cuts a mean figure and doesn't have an ounce of fat on him.
MONOTONIX
first full length is due out this September on
Drag City
. I'll be interested to see who rates it and who hates it. I myself really love the band but I've seen them live a number of times and I'm basing my affection on the strength of their mental performances. When it comes to their recordings, I feel they lack something, maybe if their records came with a stench of sweat and fire it may conjure up a live feeling, perhaps.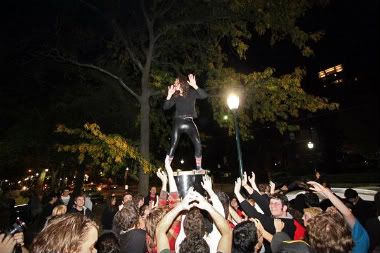 They hit Europe very soon and here are the dates. The Iron Wagon is promoting the Leeds show at
A Nation of Shopkeepers
on Friday 21st August which is also a free gig, splendid.
22 Jul - Parklife Festival, Milan
23 Jul - The Menagerie, Belfast
24 Jul - Crawdaddy, Dublin
25 Jul - Supersonic Festival, Birmingham
07 Aug - Off Festival, Myslowice
09 Aug - Festival Les Nuits, Aulnoye Aymeries
12 Aug - Oya Festival, Oslo
14 Aug - Way Out West Festival, Goteborg
16 Aug - Summer Sundae Festival, Leicester
17 Aug - The Marquee, Norwich
19 Aug - Sneaky Pete's, Edinburgh Fringe Festival
20 Aug - Stereo, Glasgow
21 Aug - A Nation of Shopkeepers, Leeds (FREE SHOW!)
22 Aug - Start the Bus, Bristol
23 Aug - The Engine Room, Brighton
24 Aug - The Garage, London

Listen to Monotonix on
Last.fm