"From that day on, till I hit the bed, Amsterdam was stuck in my head" - Amsterdam by Peter, Bjorn & John
The answer to the proposed question is obviously, because they have good taste and are on a
record label
which allows them fairly loose creative control. There's nothing worse than looking forward to an album for months and then being completely let down because the artwork is shit. That may seem shallow but all my favourite records have something interesting about the front covers, its all part of how them become your favourite albums isn't it? Like when you see it in the shop window or desperately searching at a record fair, you become elated when you see that cover. I'm not sure who designed the new artwork for
Peter, Bjorn And John's
latest album, I've searched but to no avail. However I do know that a guy called
Graham Samuels
from Sweden designed the sleeves for their last album 'Writers Block' and also the singles released off it.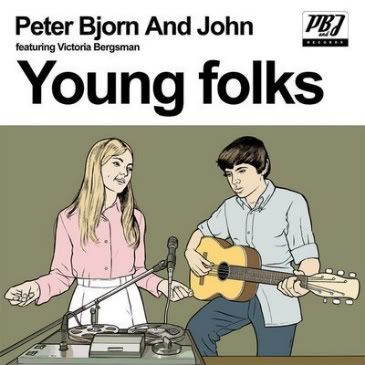 He also does adverts for what look like 70's laptops, although I think its more likely to be the Canadian media site
Dose.ca
.
Graham Samuels
was also commissioned last year to produce a mini promo for
Hewlet Packard
called Serena' Sugar Fly' Williams
KNOWLEDGE IS POWER
, whose a 70's Blaxplotation character that enjoys forcing children to read using her special powers of threatening behavior, sign language and cliched ghetto terminology.
Peter, Bjorn And John's
new album 'Living Thing' will be released on Monday 30th March 2009 and can be pre-ordered from
HERE
.