"A Peacebone got found in the dinosaur wing"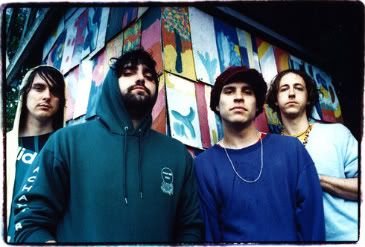 I've been a curious follower of
Animal Collective
for some years now. I've promoted two of their shows and due to Avey Tare (aka Davey Porter) being ill at the first
Panda Bear
ended up doing most of his solo stuff instead and I was floored completely. Since then I've immersed myself in their music, yet nothing seems to capture that experience of seeing them and Panda Bear live, it was that breathtaking. However, this is the album a lot of people have been waiting for, although 80% of die hard fans will suggest that they are releasing material that is far too safe in comparison to say their live album
Hollindagain
or perhaps
Here Comes the Indian
. But I thoroughly enjoyed this and think it will find them new fans in places they wish they never had, does that make sense?
Pre order the CD now from
Domino
, the LP was released yesterday.