According to The Guardian they sound like an African TV on the Radio...
They look like
TV on the Radio's
cousins from the sticks but Johannesburg's
BLK JKS
actually sound light years ahead with their bushwacker bass and calls to the wild. Having already featured in all the right magazines, from
Blender
to
The Fader
, now the middle class white dudes at
The Guardian
are even shedding their cord blazers and wearing wooden beads, whilst proposing they've been hip to Africa since
Paul Simon's
bizarre but somehow popular 1990 classic
Rhythm of the Saints
.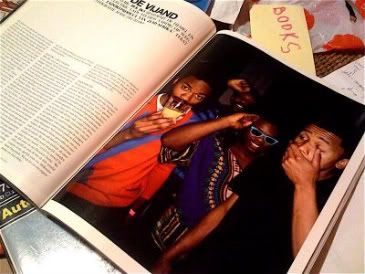 Rather than selling their soul to a major that would no doubt terrorize the very beds they sleep in for the rest of their natural lives, BLK JKS have stumbled nicely in the laps of
Secretly Canadian
. One of my favourite labels for the past 3 years, BLK JKS could do a lot worse than share their label umbrella with the likes of
Anthony & the Johnsons
and
Jens Lekman
.
Check out their rarely updated
Blog
Free Download courtesy of Secretly Canadian
BLK JKS - Lakeside
(MP3)
BLK JKS Myspace
Secretly Canadian