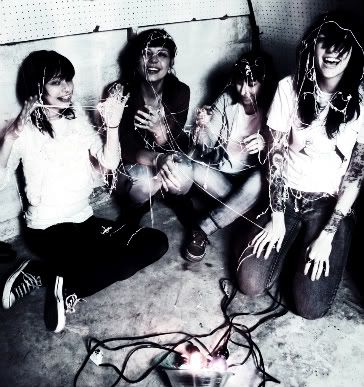 The Coathangers
album, Scramble was released this month on
Suicide Squeeze Records
The band are a glorious mess of Noughties Riot Grrrl, (think
Mika Miko
but think harder), the Ramones and
Revenge Of The Nerds
And here's an exclusive interview:
HA:
What attracted you all to each other? Please note: this is not youraverage 'how did you meet' question that every journalist will fire at you. You can tell me how you met, if you like, but what I really want to know is what made the sparks fly? What is it that you like about being in a band together?
TC:
"We were first attracted to each other by our magnetic personalities and then the power of our bangs kept us together...We love everything about being in a band together, duh!!!"

HA:
When I listen to 'Scramble', it makes me want a favourite Coathanger, in the same way that everybody has a favourite Ramone. However, I don't know enough about any of you to make such an important judgement just yet. Please could you tell me a little about your individual skills and personality traits so that I, and others like me, can become qualified to make this important decision?
TC:
"We prefer to keep our private lives as private as possible (just like Brangelina) and if u like one Coathanger you love us all! Seriously, it would take light years to become qualified to make such a decision..."
HA:
Did the Coathangers form out of a scene of musicians / artists? Or are you lone sailors.?

TC:
"We are lone sailors! None of us have ever been or will ever be in any other band besides The Coathangers... It's a lifestyle if u will..."
HA:
Are there any other bands that you feel an affinity with? Anyone that inspires you, either musically, or just to get up out of bed in the morning?
TC:
"Music in general gets us outta our beds! Everything from Gang of Four to Britney Spears from Nina Simone to Lady Gaga, from The Doors to These Arms are Snakes...."
HA:
Describe your live gigs to me - what kind of people come to your gigs? What's the atmosphere like? What do you want people to take from your gigs?
TC: "Our live gigs are like a unicorn jumping out of a cupcake filled with magic and maggots drinking beer..."
HA:
What does it mean to you to be signed to Suicide Squeeze - were there any other offers on the table? Did they find you or did you find them? Or neither? What has changed since you recorded / released the album?
TC:
"It means the world to us to be signed to SS Records, they are and always have been our soul mates, they have facilitated our dreams!! Nothing and everything have changed since the release!"
HA:
What are your plans for the future. Any plans for a UK tour?

TC:
"Our plans are to tour, tour, play local shows, tour, and rock ur face off... And yes the Coathangers invasion of the UK is imminent..."
HA:
Final question: What scares you? And, of course, why?

TC:
"What scares us? Hmmmm... YOU!

Thank you! The Coathangers love you...."

You hear that? They LOVE me. Holy shit.
Hayley Avron